SPECIAL USE


Bar Rail 1 1/4" x 3 1/2" (40A)
KNOTTY PINE - $2.40 per LF
Bar Rail 1 3/4" x 5 1/2" (40)
KNOTTY PINE - $4.50 per LF
Hand Rail  1 3/4" x 2 1/2" (51)
PAINT GRADE PINE - $3.35 per LF
SELECT PINE - $3.67 per LF
Hand Rail  1 3/4" x 3" (52)
PAINT GRADE PINE - $4.10 per LF
​SELECT PINE - $4.95 per LF
Hand Rail  1 1/4" x 2 3/8" (53)
PAINT GRADE PINE - $1.99 per LF
Picture Frame  1" x 2" (46)
SELECT PINE - $1.94 per LF
Picture Frame  3/4" x 1 5/8" (43)
PAINT GRADE PINE - $0.81 per LF
SELECT PINE - $0.98 per LF
Wine Glass Mould  

3/4" x 2 7/8" (200)

SELECT PINE - $1.90 per LF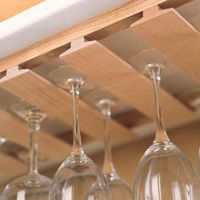 Add style and function to your bar or kitchen with this easy to install wine glass mould. 
Finger Pull  13/16" x 1 5/8" (30A)
Valance Trim  3/4" x 2 1/2" (400)
​SELECT PINE - $1.44 per LF
Please note that all wood profiles are stocked as random lengths - ranging from 6' to 16'.  Specific lengths may be available if stock allows. Orders based on total linear footage.  Specific lengths are not guaranteed to be in inventory.  Shipping staff will not create offcuts shorter than 6' in length to accomodate a specific length order.
Prices subject to change without notice.
Unless otherwise stated, all prices are per lineal foot.